Our Journey has began in the 90s
OUR HISTORY
Hidayet, Ali and Sakin YALÇIN, at the end of their textile journey that started in the 90s, using the knowledge and experience they have gained by working in the leading companies of the weaving and ready-made clothing sector in European countries (Netherlands and Belgium); They founded Zeyd Tekstil in 2008 with the aim of manufacturing water-proof matress protector types and home textile products.
Our History
THE TIMELINE OF OUR JOURNEY
2009First Large Factory and Machinery Investments

It continued to grow by making its first large factory and machinery investment in 2009 and increased its production and employment capacity. It started its first export by exporting liquid-proof kitchen sets to Greece by investing in the MİSLİNA brand on the way to branding. In the same year, it continued its growth in foreign markets by exporting cook, butcher and bartender aprons made of towel and gabardine fabric (water-repellent fabric) to Germany. Zeyd Tekstil took its place in the International Istanbul EVTEKS fair.

2010Expansion of Export Countries

In 2010, Zeyd Textile started exporting to Israel, England, France and still continues. In addition, it has started to sell nationally through its own E-Commerce platform.

2011-2012Machinery Investments

By adding a laminating machine in 2011, it completed its investment in this field and increased its production capacity. It took its place as a participant in the textile fair held in Kazakhstan. By purchasing a weaving machine in 2012, it started to produce towels and bathrobes with its own resources.

2013-2015Growth of Sales Volume and Exports

With the additional investments made in 2013, 2014 and 2015 and the increased product variety, Zeyd Textile doubled its production and sales figures in domestic markets. Agreements were made with leading national and international brands and companies, and product supply was started to them. In addition, it increased its production and product quality by renewing all its machines with the latest technology in 2015.

2016-2018Product Range and Brands

In 2016, it expanded its international marketing network and started to produce different products such as knitted fabrics and wellsoft blankets. In 2018, for branding and product diversity the patent rights of the Silver NEEDLE brand were obtained.

2019-2020R&D Activities

R&D studies on OUTLAST technology were started in 2019 and the product development phase was successfully concluded. In 2020, product R&D and brand studies for baby clothing started. In addition, a new factory investment with a closed area of 10,000 square meters has been started.
---
Increasing Export Volume
---
Zeyd Textile has a high market share in Europe, currently exports to more than 15 countries in 4 continents.
USA
UK
Russia
Germany
France
Canada
Israel
Netherlands
Greece
Croatia
Bosnia - Herzegovina
Romania
Poland
Morocco
Saudi Arabia
OUR CERTIFICATES
---
We highlight the quality of our production with the certificates we have received in Europe and International standards.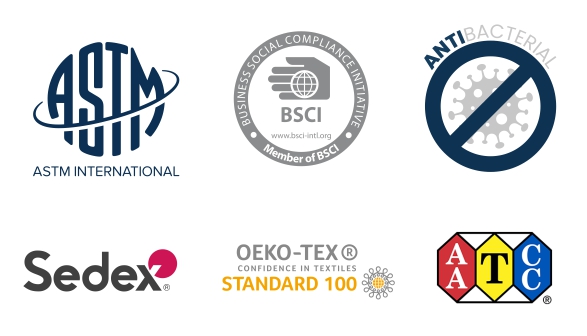 Our Brands
---
Zeyd Textile always offers the best quality, continues to produce new projects and products with its brands.
Our brands; As always, Zeyd Textile will continue to offer the best quality with its increasing investment plans, new projects, products and growing business volume.